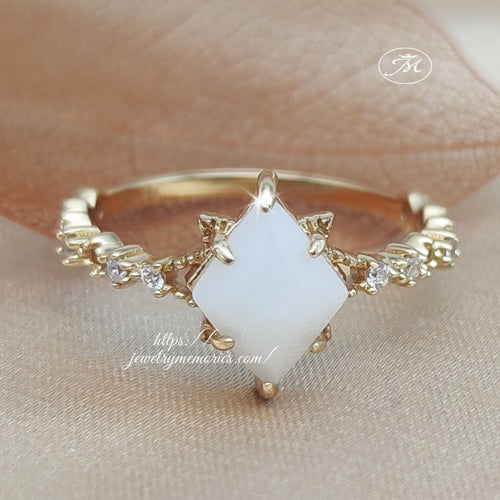 There is nothing happier than becoming a mother. The Touch of the baby, tiny eyes, tiny legs, and tiny hands, all of these special moments heal a mother's heart. Even a would-be mother can feel every movement of the baby from her ovary, and this moment makes a mother fall in love with the child. It is also said that only a mother loves a child without seeing. Additionally, Breastmilk jewelry that celebrates the bond of mother and newborn child is nothing new. From push presents to personalized jewelry featuring your child's name, there are numerous keepsakes, just like the breast milk keepsake ring, that honor your status as a mother.
Furthermore, there is no comparison of other jewelry such as silver, gold, and a diamond with breast milk jewelry, and even it can't show the essence of motherhood. So, meet breast milk jewelry, a moment that lets nursing mothers celebrate their "breastfeeding journey." At the same time, the idea of memorializing the special breastfeeding bond between mother and child sounds intriguing. Here, we at Jewelry Memories ensure the high quality of breast milk jewelry. We work with gold, silver, and natural gemstone: diamonds, ruby, sapphire to create unique and elegant breast milk jewelry to honor the journey of motherhood. 
First- Know What Breast Milk Jewelry Is!
Breast milk jewelry is a priceless present that reminds of special moments and connects the bond of mother and child uniquely. However, the breast milk jewelry or breast milk keepsake ring is special jewelry that usually contains an accent stone that is fashioned or filled with breast milk. Even breast milk jewelry gains more popularity and is easy to buy from online and offline stores. In addition, breastfeeding is a magical and excellent time for mother and child because breastfeeding means food, love, affection, care, attachment, and many more. The breastfeeding time, unfortunately, passes too fast. Even the idea of producing a small amount of breast milk is the result of a desire to preserve precious and unforgettable moments and to create something tangible and durable as a memento of the magnificent moments of security.
Why Breast Milk Jewelry?
Breastmilk keepsake jewelry allows nursing mothers to glorify their breastfeeding journey. It is like serving the moments of the perseverance and hard work that breastfeeding requires - and illustrating the emotional closeness and bonding of mother and child that breastfeeding nurtures. 
Whether you nurse or pump, our breast milk jewelry helps mothers commemorate their "breastfeeding journey" by creating monuments not only of the hard - and often painful - work that breastfeeding actually requires. Breast milk keepsake jewelry also works to improve the emotional bond that it creates and nurtures. It is enormously satisfying to watch your baby grow physically and emotionally, and it is a more prodigy moment to know that this growth is possible because of you- a mother. Moreover, breast milk jewelry like breast milk bracelet is a remarkable way to memorize this attainment and what it looks like while honoring the lasting bond of mother and child. 
How Is Keepsake Jewelry Made From Breast Milk?
Actually, there are several methods for making breast milk jewelry, but it is not a simple process.
Here we describe some common ways that used to make breast milk jewelry: It started with around an ounce of breastmilk, which is then placed through a process of excessive heating and cooling while using a chemical to keep it preserved. And, this procedure helps to change the structure of the breast milk and create a solidified clump that can then be functioned into a stone for bracelets, rings, necklaces, and earrings. 
Who Buys Breast Milk Keepsake Jewelry? 
Whether it is a gift from hubby to wife, from mother to mother, or from mother to their newborn child, or whether it is a cherished memento of a lost life. We have made this jewelry very carefully to ensure it is long-lasting, customizable, and can be easily handed down to the future generation.
The Uniqueness Of Your Breast Milk Keepsake Jewelry!
Undoubtedly, every mother's milk is different, and these differences make your breast milk stone and jewelry pieces so peculiar and personal.
Each mother's milk's color, density, and tinge are different. Some breast milk contains more proteins, making the milk-white and giving your breast milk centerpiece or stone a brighter and whiter color. And, some milk contains higher fat, which makes milk richer in quality and lends your breastmilk stone a creamier appearance. And, if your breast milk is watery, it may yield a breast milk centerpiece or stone with a lighter, more crystalline look. And if the breast milk is high in sugar, the breast milk centerpiece or stone might look denser and darker.
Final Words!
Now, you will be familiar with the fact that breast milk jewelry glorifies the mother's breastfeeding journey. So, just give your loved one a breast milk keepsake ring to make their motherhood journey more special and unique. Even this breast milk jewelry is totally different from the other jewelry. So, if you are looking to buy breast milk keepsake jewelry, reach out to us at Jewelry Memories.